Back to: Theatre » Entertainment » HomeTheatre Features

Sara Felder on "Out Of Sight"
by John Secor
Philadelphia Editor-in-Chief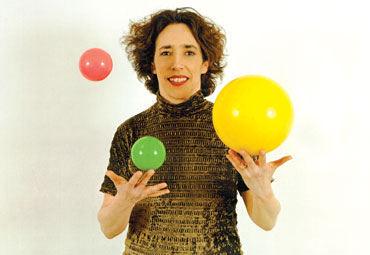 Monday May 7, 2007: Playwright, actor and juggler Sara Felder brings "Out Of Sight" to Philadelphia audiences. The show officially opens on May 10. (Source:Photo courtesy of Sara Felder)
Girl's mom is blind. Mom tells girl it's because mom looked at a solar eclipse. Girl goes on a spiritual/soul-searching mission to Israel. Falls in love. Comes home. Begins to doubt what mom has been telling her all along.
Sounds like a classic, conflict-driven play where we all discover a little more about ourselves as the Act II curtain closes. It has Tennessee Williams written all over it.
OK, fine. But throw in some circus juggling and then some shadow puppets. While you're at it, let's delve into the Israeli-Palestinian conflict (in an allegorical sense, of course).
What we have at the end of all this is Out Of Sight - a soon-to-be opening show courtesy of Sara Felder. The Brooklyn native/San Francisco expatriate brings her dramatis personae and juggling acumen to the Shubin Theatre this Thursday through May 27.
We already know the general plot. So how do shadow puppetry and juggling fit in?
It's part of the storytelling, Felder says.
A professional juggler for more than 20 years, Felder finds audiences more drawn into the story when she tumbles random objects into the air. One example: after her character comes back from Israel, she is forced to question everything her mother taught her. She questions the current Jewish generation's experience. On top of that, she's fallen in love. And the character is trying to keep all issues at the forefront - or, in juggler's terms, afloat. "Calling Sara Felder a juggler is a little like referring to Michelangelo as that guy who painted ceilings," wrote the Bay Area Reporter.
And the shadow puppetry? Are we trying to do a Karen Finley meets Mr. Rogers? Again, the "fun" theatrics help move the story along, feeding in the relevant background of the day as well as the backstory to the characters described on stage.
So how did this all come about? Felder explains that Out Of Sight contains some autobiographical elements.
"I was always intrigued about the story of my mother's blindness," she says during a telephone interview recently. "Out of Sight is based on her experience. She stared at the sun during a solar eclipse. Someone came to warn her to look away, but the sight was so beautiful, she couldn't look away."
"What I saw was a story about two people who love each other so deeply, but they can never see each other."
- Sara Felder
So Felder got to thinking, there's something with this simple story of a little Jewish girl who couldn't turn away from a solar eclipse.
"What I saw was a story about two people who love each other so deeply, but they can never see each other."
The character's trip to Israel brings her to the land of milk and honey right around the time Sadat, Begin, and Carter all shake hands to honor the historically brokered Camp David Accords peace agreement. It precedes the intifada and the mayhem from the tragic headlines we face on CNN today.
Yet, in listening to Felder, you get the eerie sense of foreboding when she discusses the Israel visit subplot.
Out Of Sight has been likened to questioning the role of the American Jew.
"In many American Jewish families, inter-generational differences about Israel and Palestine are creating a new kind of silence," says Felder. "My play is trying to put a voice to the complexity, poignancy, and heartbreak of many American Jews as they struggle to maintain a relationship in the face of their differing views."
Weaving flying objects and theatrical subject matter is nothing new to Felder. She has penned and peformed in June Bride, as well as Keeping Up With The Joans, work that has won her accolades in the Bay area. Keeping Up With the Joans was awarded a San Francisco Art Commission Cultural Equity Award.
Out Of Sight has been performed before. Felder reports some enhancements have been made for the Philadelphia production, made possible in part by a grant from the Philadelphia Theatre Initiative. The Independence Foundation and the Pennsylvania Council on the Arts also helped bring Felder's Out Of Sight to the stage.
Felder resides in Mount Airy as her partner Devra continues her rabbinical school studies.
Previews run unil May 9 and officially opens on May 10. Thursday through Saturday performances are 8 p.m. Sunday performances run at 2 p.m. and 7 p.m. For more information about the show, call 1-800-838-3006 or visit www.brownpapertickets.com
John Secor has worked with mainstream press for nearly 20 years. He is a proud resident of Philadelphia.